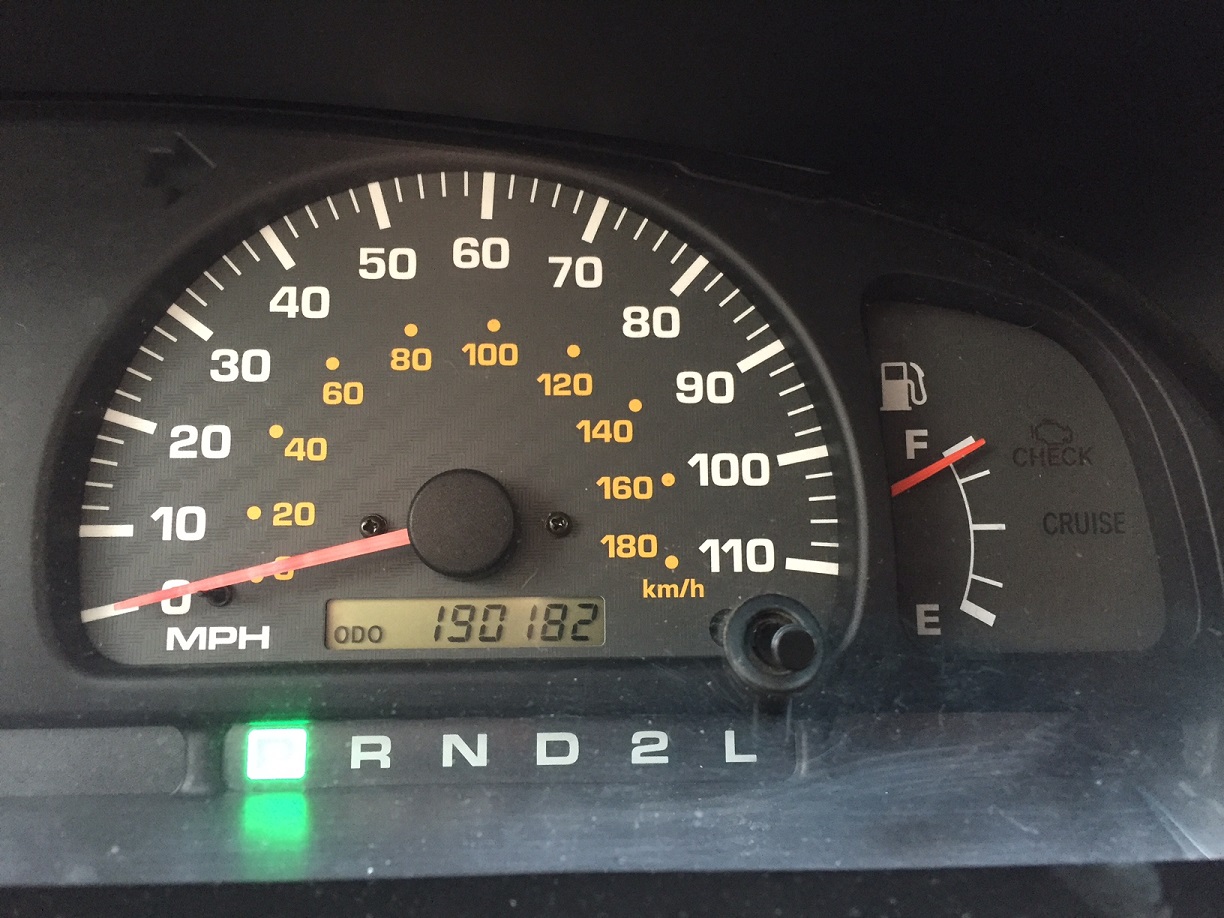 The average car on the road today is 11.5 years old today, according to USA Today. Today's cars are more dependable and long-lasting than ever and yet for many consumers, transportation remains their second largest expense after their home.
Last November, I purchased a used car, and not the typical 2-3 year old gently used vehicle, but a 2002 Toyota 4Runner with 179,097 miles. I wanted a larger vehicle to transport my three big dogs and wanted something I wouldn't worry about getting muddy or scratched.
Admittedly, I have been leery of older cars. What if they break down? The last thing anyone wants is to have unexpected large expenses trying to keep a dying vehicle on the road. And I especially do not want to have an unreliable or unsafe vehicle when it is 102 degrees in July or 20 degrees in January.
Well, I've lived with my old car for a year now and will give you a full report, including a breakdown of all my costs. I drove the car almost every day and put just over 11,000 miles on this year (the photo is my current odometer reading: 190,182 miles). During that time, it has been 100% reliable (knock on wood…). The car has always started and worked perfectly. I have had zero breakdowns and no unplanned maintenance.
As a student of behavioral finance, I think people's car buying choices are interesting to study. Most of us buy what we want, but then create a rationalization that sounds good for why we "need" a new car. Oftentimes, it's really about projecting an image of success or trying to fit in with others in the office, neighborhood, or group of friends.
Many people prefer a new car, under warranty, to avoid the unpleasantness of having to pay for car repairs. This is known as "loss aversion", which means that the pain of a $500 loss is much more intense and memorable than the satisfaction of a $500 gain.
Getting a new car every three years may cost $400 or $500 a month regardless of whether you lease, finance, or pay cash. With an older car, your depreciation can be very small, and instead your main expense is typically maintenance. You may end up spending $800 twice a year in repairs and upkeep. That sounds terrible, but which costs more: $400 a month, or $800 twice a year?
Having a used car may leave you on the hook for unplanned repairs, but the chances are good that those repairs will be a small fraction of the ongoing cost of getting a new car every three years. It's loss aversion that makes $1,600 a year in unplanned repairs feel much worse than the fact that you might save $400 a month ($4,800 a year) by not having a car payment.
I paid $4,500 for my Toyota, and had to pay $316.75 in sales tax and registration fees. My biggest expense for the year was for a set of four new tires, $744.84. I did all the work on the car myself, including three oil changes, replacing the rusty radiator, hoses, and thermostat. I changed the fluids, including brake, transmission, power steering, and differential oil. I installed a new air filter, PCV Valve, and wipers, and cleaned the intake twice. In total, I spent $521.23 on maintenance, which was quite low since I did the work myself.
According to Kelly Blue Book, the current value of my vehicle is $4,044, so my estimated depreciation for the year was $456. Including depreciation, my cost for the year was $2038, which works out to 18.4 cents per mile (not including fuel). My insurance cost was much lower with this car; I kept the same high level of liability coverage as my other vehicles, but dropped collision. The annual insurance premium was $510.40, less than half the cost of our other vehicles.
What are the takeaways from this experience? A couple of thoughts:
A well-maintained vehicle can certainly last 150,000 miles or more. Your best choice is always to keep your current vehicle for as long as possible and remember that even if you spend a couple of thousand on repairs per year, that is a small amount compared to the costs of depreciation associated with the first 5 years of a new cars' life.
Buying a used car is always going to be a bit of a gamble. Do your homework and choose a vehicle known for its dependability and ease of repair. Keep up with routine maintenance, using the manufacturer's recommended schedule. Get to know a trustworthy independent mechanic.
I know that keeping a car for 10 years is a great idea, but for me, I just get bored with a vehicle after a couple of years and want something different. Knowing this preference, I can buy a used car every couple of years and not have the staggering depreciation costs of new vehicles.
It's okay to spend money on cars, but if you think that retirement, paying down debt, saving for college, or growing your net worth are more important, than you need to make sure to prioritize those goals ahead of new cars. Every financial planner has met lots of people who have a new Mercedes but who "can't afford" to contribute $5,000 a year into an IRA. Make sure your spending reflects your values and goals, and is not based on what you want others to think.